Making it a December to Remember!
Every year December 16th – December 25th for 10 consecutive Days TMF Members pay it forward to make the holiday season extra special for people. Here is what took place this past year December 2020.
December 16th
TMF Member Bryan Tapia Dressed as Santa Clause and members spread the Christmas Joy to the Homeless at the TMF Family Dinner for those in the street. Candy Canes were passed out and hot chocolate was served.
December 17th – "Hope Night"
TMF members went to four corners in Lawrence where women sell their bodies to support their drug habit. Members climb the street sign and place a purple flower at the top that represents hope. Members then place an index card in the middle of a street sign that reads a positive message to the suffering addict.
December 18th – "Awareness Night"
Members held posters outside around downtown Methuen with positive messages for drivers to read as they drive by such as "Difficult Roads lead to beautiful destinations" and "Broken Memories don't mean broken dreams"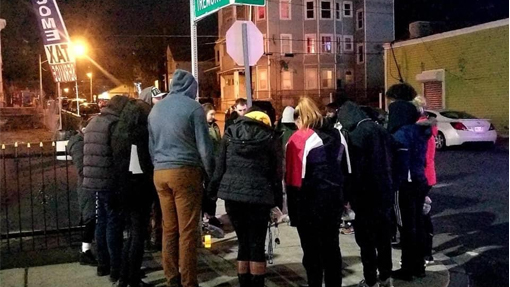 December 19th
TMF heads to "Methadone Mile" in Boston, MA. TMF Handed out care packages, built conversations and spread love.
December 20th
TMF puts Christmas Trees under all the Bridges and Homeless Encampments around the City. Homeless Decorated the Tree someone they lost or miss on the ornament.
December 21st – "TMF Members Christmas Party"
Presents, Food, Team Building Activities, and Prizes. Family Bonding Time.
December 22nd – "TMF Christmas Caroling"
Members will spread holiday spirit to different neighborhoods. Members provided with Hot Chocolate, Santa Hats, and caroling books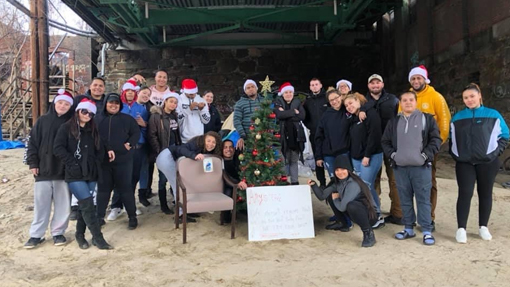 December 23rd – TMF Christmas Dinner for the Homeless
Christmas Tree put in the Lot. GingerBread Houses, Candy Canes, Christmas Music, Saxophone Player, Live Art, Guest Speaker, and Amazing Food. Santa Claus and his Elf present for Dinner
December 24th
TMF Meeting Doors are open for any members that have nowhere to go for Christmas Eve.
December 25th
TMF Delivers presents to the Homeless under the Bridges