The Movement Family was founded by Michael Gorman in the summer of 2011. A Grassroots program that would start in the month of May and end in August from 2011-2015 before becoming a full year program 2015 – present. TMF was originally a group with a schedule that consisted of a 3 mile run on
Mondays, Wednesdays, and Fridays and speed and conditioning on Tuesdays and Thursdays. This was made to build motivation and determination amongst members to feel accomplished. With no money or facility, TMF used the old "Bus Loop" at Methuen High School as their meetup location. TMF Raised money by having a car wash at the Wave in Methuen, 3 on 3 Basketball Tournament at the Tenney Grammar School in Methuen, and a yard sale on Broadway in Methuen. With the money raised, TMF decided to do weekend activities that members may have never experienced growing up such as Bowling, Mini Golfing, and the Zoo. Members grew from strangers to a family in life that looked at one another as brothers and sisters. TMF started to believe. Members interviewed each other sharing their story of pain or why they joined the program to begin with. TMF wanted to make a difference not only with themselves but the community as a whole. TMF would hold a banquet at the North Andover Youth Center at the end of August to acknowledge the progress members have made since entering the program. In 2016 TMF transitioned to hold a weekly meeting on Thursday Nights 7:00-9:00 pm at the VFW in Lowell, MA. thanks to Tammy Poindexter who believed in the program and its mission. TMF stayed at the VFW 2016-2018.
The year 2018 was a big year for the TMF Program. After noticing homeless people sleeping at the Bus Station in Lawrence, the idea was raised at a TMF Meeting if we could start a dinner inside the Buckley Garage for the Homeless. We started off with one table, a few chairs, and little Caesar Pizza. Amazingly one table turned into a buffet style dinner, approx 100 people inside the bus station that summer, and individuals being placed into Treatment! Our program became very known in the Merrimack Valley for our Dinners in the city of Lawrence. Our focus was for TMF Members to build relationships with the homeless and believe in them until they can believe in themselves again! We currently have our Dinners at the Buckley Transportation Center at 295 Common St, in Lawrence.
In 2018 we also switched our Weekly Meetings to the Old Central Building in Methuen and held Meetings on Monday Evenings for a brief time thanks to Dean Brouder who has been a supporter of the program for years. Besides a short stint of holding TMF Meetings at the Lawrence Public Library we have spent most of our TMF Meetings at the Lodge in North Andover for the past two years. Sam Salib (TMF Member) was able to secure this location for us. We currently have our Meetings bi-weekly on Monday Evenings 6:00-8:00 pm while having our TMF Dinner for the Homeless on Wednesdays 8:00 -10:00 pm.
TMF is a very uniquely diverse set of individuals that start off as strangers but within time look at each other as brothers and sisters. A second Family.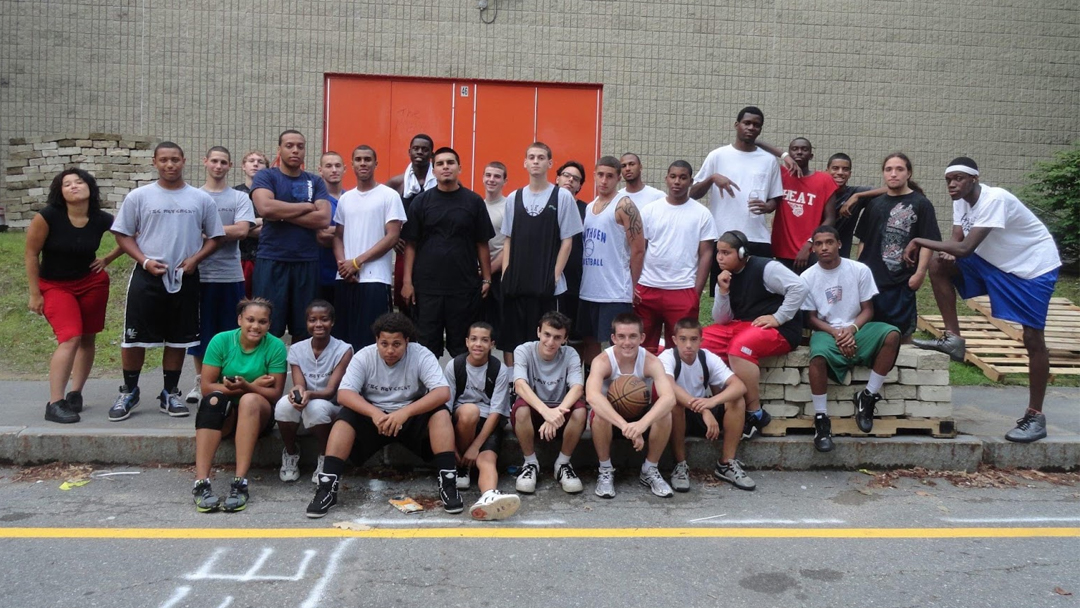 Original TMF Group in 2011 at the old Methuen High Bus Loop